[ad_1]

This year I decided to post this column early enough to anticipate Thanksgiving—a fitting way to remind us to be thankful for dance and dance books. Starting with last year's list, I've invited several other writers to contribute, and they've brought some recommendations too. After our twelve chosen books, you'll find an additional list of nine that have been announced. I am sure they will make as good gifts (for others or for yourself) as the ones we are calling notable. Feel free to make a comment about our faves or add your own.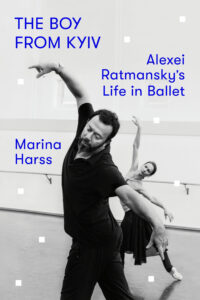 The Boy from Kyiv: Alexei Ratmansky's Life in Ballet
By Marina Harss
Farrar, Straus and Giroux
Reviewed by Mindy Aloff
What a wonderful book: A biography and an autobiography at once. It provides a wide window on the thinking process of a great dancemaker. It braids the story of the choreographer's life with vivid accounts of his dances in prose that practically turns the pages by itself. And, swiftly and efficiently, it positions the subject's Soviet training and Bolshoi experiences in the context of ballet in Europe and the U.S. during the late twentieth century. One sees the theatrical foundation for Ratmansky's aesthetics from childhood and then, as he matures, his reach and aesthetic risk-taking that help his artistry to flourish.
"A phrase choreographed by Ratmansky contains more ideas than entire ballets by other choreographers," author Marina Harss writes. "Multiple stories unfold at once. . . .This profusion of ideas is just as evident in the way Ratmansky modulates the steps. He is a product of many traditions; he melds them into one, shaping them through the filter of his imagination."
Paragraph by paragraph, The Boy from Kyiv provides evidence for those sweeping statements. (Disclosure: Engaged by Harss as a reader of an earlier draft, I had the privilege of seeing how attentive she was to the drive of her storytelling.) She reveals nuances of Ratmansky's character, showing him in awkward jams as well as in streamlined triumphs; she delineates some of the steep learning curves he had yet to master on becoming director of the Bolshoi Ballet. One concerns his efforts to explain to the dancers how to "be themselves" without smiling broadly when performing George Balanchine's work; another concerns the Machiavellian power games that Ratmansky was forced to play with such old hands as the retired Soviet choreographer Yuri Grigorovich.
Harss deeply responds to Ratmansky's aesthetic sensibility and she clearly cares about him and his family. The trust they share has resulted in a magical balance in the writing between her streaming chronicle of his life and her accounts of the ballets. She has elected to complete this book while Ratmansky, now 55, is in his prime. (Her meticulous chronology of works at the back, including the many ballets he has made for American Ballet Theatre and New York City Ballet, is complete through the choreographer's impassioned yet deliberately disunified Wartime Elegy, given its 2022 premiere by Pacific Northwest Ballet.) His art is still opening more doors than it is closing. At this point, he has the satisfaction of having explored his intense curiosity about Soviet ballets of the 1930s, the music of Shostakovich, and the original productions of many of Marius Petipa's masterpieces. Russia's invasion of Ukraine—the country where Ratmansky's and his wife's families reside—has prompted him to redefine elements of his identity. The events of history have forced him to remain young in the sense of ready to move at the drop of a hat in unplanned directions. As Harss writes, where that road will lead him, not even he knows.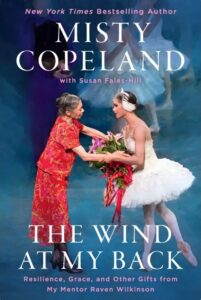 The Wind at My Back: Resilience, Grace, and Other Gifts from My Mentor, Raven Wilkinson
By Misty Copeland with Susan Fales-Hill
Hachette Book Group
Reviewed by Wendy Perron
This is an inspiring story of a relationship between a younger and older ballerina. In 2010, when watching a DVD documentary, Misty discovered the first African American ballerina to dance with a major ballet company. With awe and gratitude, she learned that Raven Wilkinson had been a lyrical Black ballerina with the Ballet Russe de Monte Carlo in the 1950s. Together with her agent, Gilda Squires, they tracked her down, finding that she lived only blocks away from Copeland's home. Squires arranged for a public conversation at the Studio Museum in Harlem, the first of many conversations over the next seven years.
Misty was moved by the grace with which Raven encountered racism while touring the South, where the Ku Klux Klan was still on the rampage. "Raven understood…how racism traps everyone in a no-win situation, bringing out the worst in all of us. Her response was always to rise to her best self. She was the embodiment of 'Be the change you want to see in the world.'" In appreciation of Raven, Misty articulates the difference between then and now: "She belonged to a generation that led with proof of excellence first and identity second."
In her gentle yet firm way, Wilkinson challenged Copeland to take her talents further. One of the most moving moments is when Wilkinson said to her, "Every time you step on that stage, I'll be the wind at your back." The book details the months and years when Raven fulfilled that promise. She encouraged, listened, soothed, pushed, explained, reminisced, and shared moments of laughter. More than all that, she demonstrated how to be, how to exist with dignity in this racist world. What comes across is how vulnerable Misty felt, how much she needed the example of Raven. She puts Raven's lessons into these words: "Soar above the hate. Lose yourself in the music and the steps, which will live on long after bigotry has died. Defeat hatred with beauty."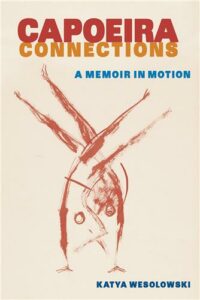 Capoeria Connections: A Memoir in Motion
By Katya Wesolowski
University of Florida Press
Reviewed by Lori Brungard
The circle is a powerful symbol in African diasporic culture. Given Capoeria's roots in Africa, it makes sense that circularity plays a key role in Katya Wesolowski's Capoeria Connections: A Memoir in Motion. The primary vehicle for capoeria play is the circular formation of the roda. Circularity is lived as reciprocity. Various forms of give and take happen within the roda: the call and response between musicians and dancers, the capoeristas' alternating attack and defense moves, and the African resonance that imbues the ever modernizing movement. Wesolowski invites the reader into the roda:
"The game has begun: with bodies close and low we trace arcs and circles above and around each other. . . I manage to catch myself on my arms and rise from the floor with a straight kick from the ground and then propel myself into a handstand. [My partner-opponent] enters with a scissor movement on the floor, and I touch my knees to my chest and slide under her legs on the floor careful to avoid an attack."
The improvised interaction between two sparring capoeristas is almost like a moving yin yang symbol, as each one reacts to the other's move by filling in the negative space (interestingly, a defensive move in capoeira is called a negativa). This complementarity is expressed in a larger sense by Capoeria's repurposing of traditional African movement as resistance, in its original form as self-defense by enslaved Africans. But it did not rest there.
While Wesolowski does investigate Capoeira's roots, she focuses more on the evolution of the form as it shifted from "its reputation as a marginal, violent, and delinquent activity" to folkloric staging and community building. In its representation of Brazilian pride with an international following, capoeira became a means of escaping poverty for its mestres (masters). She traces this trajectory through a similarly circular structure of chapters that starts in her hometown of Berkeley, CA, moves to Brazil, Africa, Europe, and circles back again to Africa, finally to return to the U.S. to her current home of Durham, NC. In the process, she interrogates her own positionality as a white woman in a form that was originally performed by Black males, finding connections despite these differences.
Wesolowski leads with a warm invitation to join her in convivencia, a Portuguese term connoting "connection, coexistence, and companionship." Her story always returns to her relationships within various capoeira communities. Her writing is a dialogue with the reader: she calls and requests a response. It erupts from an inner necessity…from legs to limbs then directly to the page, taking us along for the ride, with all its bumps and beauty.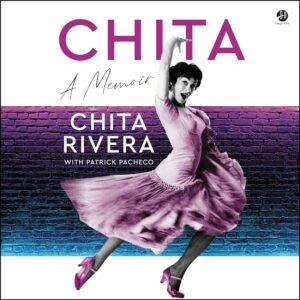 Chita, A Memoir
By Chita Rivera, with Patrick Pacheco
Harper One
Reviewed by Sandra Kurtz
We live in a first-person world right now—from the intense revelations of reality television through the never-ending scroll of social media posts, we are saturated with "I." Chita Rivera, who combines a thrilling theatrical dynamism with the precision of ballet onstage, tells many stories about her life in her self-titled memoir, but she also gives us an up-close view of her times as well. And those times include some of the most innovative and significant developments in American musical theater. Her eye-witness account of a time that still affects what we see in the theater today is a roll call of artists and events from the 1950s to the present.
Rivera tells her story in a mostly chronological fashion, starting with her early life in Washington, DC, when her mother put the ultra-active girl in dance classes to keep her occupied. From there, a scholarship to the School of American Ballet took her to New York and launched her on the path to her career on Broadway.
Her first real job, as a chorus girl in the touring cast of Call Me Madam, sets her on a pathway full of other firsts, including the original Anita in West Side Story, the original Velma in Chicago, and the original Aurora in Kiss of the Spiderwoman. The highlights are quite high—Leonard Bernstein taught her to sing, and Gwen Verdon encouraged her to aim beyond the chorus—but Rivera's narration of her dancing life brims over with names from all parts of the business. She performed in musical reviews with Bea Arthur and James Garner, learned to bump and grind from choreographer Peter Gennaro, and helped Dick Van Dyke learn to dance soft shoe for Bye Bye Birdie.
Rivera's story of her personal life overlaps with her theater work—colleagues become friends, and friends become something more. She meets husband Tony Mordente in the cast of West Side Story—their daughter Lisa follows them into the theater. Her relationship with Sammy Davis, Jr. grew from their work in Mr. Wonderful.
She rarely has something negative to say about a person or an experience. She touches gently on racial stereotypes when she discusses her time at SAB ("Ballet at that time was an almost exclusively white world.") Although she acknowledges that Jerome Robbins had a reputation for being harsh in rehearsal, "he was never that way with me." More often, any frustration is softened by humor, like her quoting the song from Forbidden Broadway, commenting on how she is frequently mistaken for Rita Moreno: "Chita Rivera is not Rita, Rita Moreno is not Chita, Chita is Chita and not Rita, I would prefer you forgot Rita!"
Chita, A Memoir is a generous retrospective on a full life in the theater from someone who seems to have been everywhere and known everyone.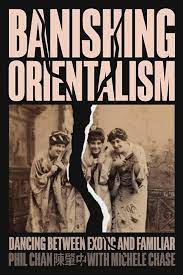 Banishing Orientalism: Dancing between Exotic and Familiar
By Phil Chan with Michele Chase
Yellow Peril Press, Brooklyn, NY
Available at Amazon.
Reviewed by Weichen Cui
Banishing Orientalism follows Phil Chan's first book, Final Bow for Yellowface, published in 2020, and the launch of the pledge platform of the same name, cofounded with Georgina Pazcoguin. Continuing the discussion of Asian stereotypes in ballet, Banishing Orientalism elaborates on the tensions between the "Kingdom of Shades—Full of Ghosts of Ballets Past" and today's increasingly diverse world.
Edward Said coined the word Orientalism in the 1970s to criticize the Western way to dominate, restructure, and have authority over the Orient. In Chan's view, "Orientalism in ballet is not just a stylistic device/genre, but rather an integral aspect of what defines classical ballet itself." Orientalism has fueled innovations in ballet technique, music, and spectacle—the ultimate fantasyland. It also serves as a safe space to transgress taboos, reinforcing Western moral superiority over the heathen mysticism of the barbarians.
Ballet's Orientalism legitimizes empire-building, colonialism, and slavery onstage. The ridiculous plots, such as opium fantasies and irrational love and sacrifice, along with the portrayal of exotic archetypes like Pirates, Slaves, Geishas, Sultans, and Harem Girls, had given rise to a shared sense of symbols. These messages, rooted in distortion and bias, had been passed down, from Petipa on. By setting white European culture as the default, ballet perpetuates a fantasy that excludes or misrepresents people from other cultures. In today's globalized and diverse society, such a path will inevitably lead to the decline of ballet.
"How can I be a participant in an art form that's obviously not by or for people like me? These days why should an art form that excludes people like me be considered 'high art' for an entire society?" These poignant questions reveal the vulnerability and confusion experienced by non-White ballet enthusiasts. In response, Chan objects to culturally demeaning representations; he advocates for a reimagining of ballet that is more relevant to today's diverse audience. For example, by asking, "What else could it be?", for their 2021 version of Balanchine's The Nutcracker, Pacific Northwest Ballet replaced the Fu Manchu-style caricature with leaping crickets, a symbol of luck with playfulness.
In order to create an "art for all of us," Chan feels it's essential to address institutional inequity, pigeonholing and tokenism. As examples of cross-cultural experiments that more or less evade those failings, he offers Maurice Béjart's study of khatak in India to Sylvia Guillem and Akram Khan's collaboration Sacred Monsters (2006).
The book probes power dynamics and cultural dominance in ballet's history and present. (As a ballet lover, I yearn for its continued progress because it fosters cross-cultural dialogues.) As Chan advocates, by fostering respect and curiosity, ballet can transcend the boundaries of our individual experiences and connect with those who are different from us.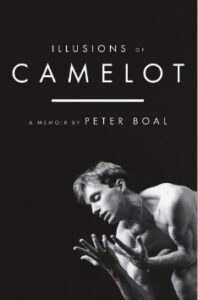 Illusions of Camelot, A Memoir by Peter Boal
Beaufort Books
Reviewed by Wendy Perron
This memoir is mostly about the shy, tender, young Peter Boal, the privilege (living in a huge house, live-in caretaker, country clubs) that fails to make the family happy, and his father's alcoholism that poisons all relationships. Boal is a natural storyteller; his elegant prose is full of insights and humor. His narrative, however, includes only a precious few dance stories, which may cause dancer/readers to yearn for more. His audition for the School of American Ballet elicits belly laughs. His description of the popular teacher Stanley Williams deepens our understanding of ballet—and of Boal's love of the art form. His description of the meditative, healing space of daily ballet class is stirring.
Working with Jerome Robbins on Balanchine's Prodigal Son and Robbins's Moves is a highlight. Unlike the usual stories about how demanding and unreasonable the great choreographer was, Boal shows sensitivity toward Robbins and his effect on dancers. About Jerry's coaching, Peter writes, "His words, however gruff and prodding, pushed me into finding my voice as an artist."
The day that Peter gave his last performance in the SAB Workshop and his first performance as an apprentice with New York City Ballet happened to be the day the world learned that Balanchine had died. This coincidence sparked Boal's memories of Balanchine, including a visit to him in the hospital when he was still a student.
Boal's closeness to the tragic AIDS epidemic and his yearning for a relationship with his downward-spiraling father are deeply touching. He has a gift for leaving the reader with quiet joy and pain at the same time. (Disclosure: I've choreographed two solos for Peter and encouraged him in his writing.) Illusions of Camelot is a gentle story with unflinching detours into the epidemics of AIDS and alcoholism—dark streaks threading through this poetic reminiscence.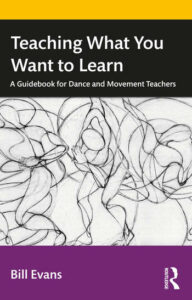 Teaching What You Want to Learn: A Guidebook for Dance and Movement Teachers
By Bill Evans
Routledge
Reviewed by Janis Brenner
The widely respected dancer/teacher/choreographer Bill Evans has written a thoughtful, thorough, and wonderfully readable book. In Teaching What You Want to Learn, Evans journeys through his five decades of pedagogical research and practice. He also writes that the galvanizing moment in our country over the murder of George Floyd was a catalyst for reflection of his own ways of contributing to the world.
With a foreword by Selene B. Carter, the book has ten chapters with titles like "Language," "Guidelines and Strategies," and "Converting Theory into Action." The chapters are divided into smaller modules such as "Remind Yourself That You Love to Teach," "Embrace Evolving Values," and "Never Work Harder Than Your Students." These clear and concise modules add up to 94 different explorations. In addition, each essay is accompanied by a small box entitled "For Your Consideration," where he asks us artist-teachers questions to contemplate: "When are you at your best as a teacher? Please relate how a teacher, mentor, or colleague, who believed in you at a crucial juncture… helped you understand yourself better and/or achieve success. How have you served in a similar role for someone else?"
Evans is a master teacher of Laban/Bartenieff Movement Fundamentals (L/BMS) and is founder of both the Somatic Dance Conference and Performance Festival and the Evans Somatic Dance Institute, headquartered in Washington state. The entire book is infused with this lineage and its applications to understanding a wide range of movement experience.
For long-time, seasoned dance teachers, some of his simple statements may seem obvious, but they are gems for the younger generations and good reminders for those of us who may need a dose of someone else's perspectives besides our own! Evans also credits mentors and colleagues who have been of significance in the development of his practice—an important lesson for upcoming teachers and choreographers to remember "from whence you came."
In later chapters, Evans delves deeply into "Anatomical Imagery," including diagrams of specific body parts and functions, for instance, "Open-Chain Pelvic-Femoral Rhythm/Thigh Lifts and Leg Swings." The final chapter, written by Bill's spouse Don Halquist, explores Howard Gardner's "Theory of Multiple Intelligences" through a movement-based lens.
As a long-time teacher of improvisation and composition, originally through the pedagogical theories of Alwin Nikolais/Murray Louis and Hanya Holm, I was surprised that the Nikolais heritage is never mentioned in relation to L/BMS, its origins and its direct connection to Laban/Wigman. However, I found that Teaching What You Want To Learn is a valuable guide into the creative side of dance education.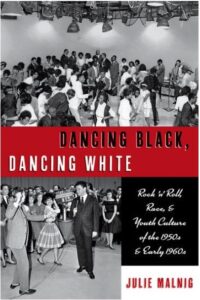 Dancing Black, Dancing White: Rock 'n' Roll, Race, & Youth Culture of the 1950s & Early 1960s
By Julie Malnig
Oxford University Press
Reviewed by Martha Ullman West
Julie Malnig, author of Dancing Till Dawn: A Century of Exhibition Ballroom Dance, has considerable expertise in exhibition ballroom dance as an expression of American history and culture and the place it holds in American society.  That knowledge informs Dancing Black, Dancing White, which explores the many teen television dance shows that proliferated in the two decades following World War II, the best-known of them being the American Bandstand. These programs featured exhibition ballroom, or social dancing, for a mass audience, white and Black. Malnig devotes a chapter titled "Movin' and Groovin" to four Black teen shows, broadcast in the South. Like everything else in that period, the shows were segregated. But not for musicians. The groups performing on American Bandstand, for example, where the dancing teens were white, were often Black, and they sold a lot of recordings of such artists of color as James Brown, the Temptations, Chubby Checker, and Aretha Franklin. White musicians who owed much of their their fandom to these shows include Elvis Presley, and, following their first appearance on the Ed Sullivan Show in 1964, the Beatles.
Racial segregation is just one lens through which Malnig, Professor of Dance and Theatre Studies at the Gallatin School of Individualized Study at NYU, examines these programs. Others include capitalism, social conformity, the country's attitudes toward teenage girls, and dancing itself in mid-century America. Her many sources include books written by Thomas DeFrantz, Brenda Dixon-Gottschild, and LeRoi Jones. Malnig's interviews with the young dancers who appeared on these shows—and some who were excluded—and her descriptions of the shows themselves, offer the most compelling evidence for her thesis.
She points out that John Waters' 1988 film Hairspray is one of several films and musicals that reimagine the TV teen shows, carrying them into the future.
(For more on John Waters' 1988 film Hairspray, check it out on YouTube. The heroine, performed by overweight Ricki Lake, whose dancing is fantastic, is shunned by all but a few. One character is subjected to electric shock "deprogramming" by her bible-thumping, dance-hating parents; this is satire that can make your stomach churn.)
In the chapter called "Rock 'n' Roll and the Africanist Aesthetic" Malnig concentrates on Black dance, its origins, and its popularity with white kids. They loved doing the Madison, which is rooted in the plantation ring shout, as is the Big Apple, popular with adults in the 1920s.
Malnig's descriptions of these "rock 'n' roll" dances also serve to illuminate the work that current choreographers like Caleb Teicher are doing now, specifically his terrific "Swing Out" show and its blending of tap, swing and the Lindy Hop.
But, as short as it is (220 pp) Dancing Black needed some pruning of repetitions and was so sloppily copyedited and proofread there are errors on almost every page. Nevertheless, those pages contain an enormous amount of valuable information about these shows, the dances themselves, and the context in which they were aired.
Movement at the Still Point: An Ode to Dance
Photographs by Mark Mann
Rizzoli
Reviewed by Wendy Perron
These striking photos, covering 142 dance artists who are diverse in genre, gender, age, and race, are all shot in black and white, lending a timeless quality. Many of the dancers are presented with a portrait shot as well as a full, luscious body shot, pairing intimacy with theatricality. You can spend hours, days, leafing through this book, savoring the images of dancers you know and getting a glimpse of dancers you don't know.
The Irving Penn–inspired backdrop lends a rich, grainy texture, inviting a sense of visual depth. Mark Mann's camera captures the sumptuous strength of Rena Butler, the drama of Terese Capucilli, the bejeweled mystery of Soraya Lundy, the breathy lift of Jonatan Luján, the jauntiness of Ephraim Sykes, and the playfulness of Miki Orihara and Stephen Pier as a couple. I especially appreciate the inclusion of dancers who are no longer young like Desmond Richardson, Michael Trusnovec, Janet Charleston, and Jodi Melnick. The portrait of Gus Solomons is so haunting that it made me wonder: Did he know he was nearing death? The last shot, with Sondra Lee and Carmen de Lavallade, makes reaching one's 90s look like a fabulous time of life.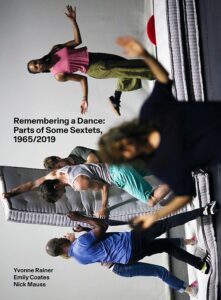 Remembering a Dance: Parts of Some Sextets, 1965/2019
By Yvonne Rainer, Emily Coates, and Nick Mauss
Published by Performa
Wadsworth Atheneum Museum of Art, and Lenz Press,
Reviewed by Wendy Perron
This book was so exciting to me that I jumped the gun and wrote about it here.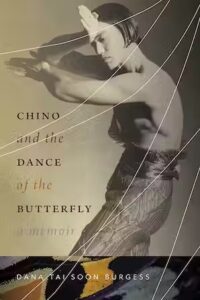 Chino and the Dance of the Butterfly: A Memoir
By Dana Tai Soon Burgess
University of New Mexico Press
Review by Lisa Traiger
The early chapters of Washington, DC–based dancer, choreographer, and now author Dana Tai Soon Burgess's life reveal the ingredients—a love of movement, an inquisitive mind, immersion in art and reading, and determination—that have shaped his productive dance career. His company, now in its 30th year, has toured the world for the U.S. State Department and recently was invited to serve as a Kennedy Center Social Impact Community Partner.
The son of visual artists—his mother, a Korean American; his father of German and Irish stock—Burgess grew up Santa Fe, New Mexico. An outsider, he wrestled with his visible Asian identity, humble family circumstances, and sexual identity. Bullied and lonely as a child, he created a rich internal life. Art—painting, weaving, sculpture, sketching—along with movement became significant avenues for young Burgess to translate, and ultimately transform, his world.
As a freshman at University of New Mexico, he wandered into an old gymnasium and observed a jazz dance class in progress. He later wrote, "My meandering had delivered me my destiny, a secular temple where dancers were tempered into competitive, professional-level performers." He set his course to dance.
With determination and serendipity, he forged a path encountering significant figures along the way. Among them, sculptor/Martha Graham set designer Isamu Noguchi was in his parents' art circle, while he was briefly an errand boy for an aging Rudolf Nureyev during a tour stop. Burgess collected an oral history from mid-century modern dancer Eleanor King and connected with Hamburg Ballet's John Neumeier on choreography. And he immersed himself in researching and resuscitating the contributions of Japanese-American choreographer Michio Ito.
Burgess's vivid descriptions of movement, as he re-shaped his karate-trained body, provide insight into his choreographic proclivities, which entwine balletic linearity with modern dance techniques. In Washington, DC, he built a company reflecting his Asian American and multi-hyphenate identities, which became his calling card on State Department tours worldwide. He also collaborated with visual artists and became the first choreographer in residence at one of the Smithsonian museums.
Lauded as the "poet laureate of Washington dance," with this account Burgess proves himself as graceful on the page as he and his dancers are onstage. This self-portrait of an artist is penned with perceptive self-insight and evocative, lyrical language, painting a vivid picture of his journey to dance.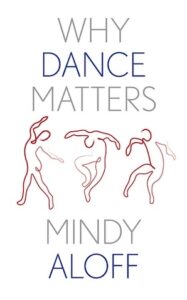 Why Dance Matters
By Mindy Aloff
Yale University Press
Reviewed by Martha Ullman West
Why Dance Matters is part of Yale University Press's publication series "Why X Matters". These are highly idiosyncratic, deeply personal, book-length essays about why a subject—poetry, architecture, composer etc. matters to the author.
Mindy Aloff has put a lifetime of experience of watching dance, writing about it, teaching its history, and editing the articles and books of other writers into why dance matters to her and to the world at large. Densely researched and conversationally written, it's an excellent read for both those who know little and for those who live and breathe this art form as professionals in the field.
The seven chapters of this compact survey of dancing all over the world—as cultural expression, theatrical art, religious ritual, the kind you do and the kind you watch—are replete with all kinds of references, reflecting Aloff's obsessive delving into all things dancing, including music, visual arts, and film. These are invariably interesting, but what really fascinates me is how she connects various forms of locomotion and dancing. Chapter One, e.g., "Child's Play", begins with an analysis of the book's sole photograph, taken c.1940 by Helen Levitt, of young kids, one white, one Black, dancing in a Harlem street.
From here Aloff moves to her Philadelphia childhood, when as a 5-year-old she was placed in a class taught by a refugee from Nazi Germany and told to "be" a snowman: "snowfolks are round, roly-poly I figured; and so I lay down and rolled around on the floor."  This memory leads her to the "Snow scene" and a discussion of ballet, the form that matters to her the most, especially as choreographed, modernized, and made relevant in the last century by George Balanchine.
That said, she does pay attention to modern dancers and choreographers Isadora Duncan and Martha Graham; the uncategorizable Merce Cunningham; Paul Taylor; and post modernists Trisha Brown, Twyla Tharp, and David Gordon; tap dancers Honi Coles, Brenda Bufalino and Jane Goldberg connecting them all in interesting ways, drawing on the reviews of their work by other critics, her own interviews with some—specifically with Gordon, whom she talked with not long before he died, and obviously a lifetime of watching, writing and thinking about their work.
Dance matters, she concludes, because it connects: movement with music, dancers with each other, dancers with the audience, and audience members with dancers. About the last, she cites of all things Jewish philosopher Martin Buber's book I and Thou, sending me to my underlined copy to see if that made sense, which it did.
(Disclosure: Aloff and I have been colleagues and friends since the late seventies, when she was editing Portland's Encore Magazine and writing incisive, historically based dance reviews for Willamette Week, the city's alternative paper. She includes material from my own book, Todd Bolender, Janet Reed and the Making of American Ballet [see Notable Books of 2021], which she edited.)
Books Received or Announced
Behind the Screen: Tap Dance, Race, and Invisibility During Hollywood's Golden Age
By Brynn W. Shiovitz
Oxford University Press
Broadway Bodies: A Critical History of Conformity
By Ryan Donovan
Oxford University Press
Astaire by Numbers: Time and the Straight White Male Dancer
By Todd Decker
Oxford University Press
Dance Works: Stories of Creative Collaborations
By Allison Orr
Foreword by Liz Lerman
Wesleyan University Press
Ed Watson: A Different Dance
By Sarah Crompton
Prestel Publishing
Sharpening Dance Canons: Criticism, Aesthetics, and Equity
By Kate Mattingly
University Press of Florida
The Color of Dance: A Celebration of Diversity and Inclusion in the World of Ballet
By Takiyah Wallace-McMillian, founder of Brown Girls Do Ballet
Hachette Book Group
New York City Ballet
Choreography & Couture
By Mark Happel
Photography by Pari Dukovic
Foreword by Sarah Jessica Parker
Rizzoli
You the Choreographer: Creating and Crafting Dance
By Vladimir Angelov
Routledge


Like this
Wendy PerronFeatured
[ad_2]

Source link