[ad_1]

A new poll suggests that significantly more voters trust former President Donald Trump in handling the ongoing crisis at the southern border compared to President Biden — just as the U.S. remains wracked by a historic migrant crisis.
The Marquette Law School Poll asked respondents who would handle immigration and border security better. Of those polled, 50% said Trump, 27% said Biden, 7% said about the same and 16% said neither.
Respondents also believed Trump to be better on the economy by a 21-point margin. It also found him preferred on the Israel-Hamas war, foreign relations and Medicare and Social Security by just one point. Biden was preferred on abortion policy and climate change.
TRUMP SAYS HE WILL CARRY OUT THE 'LARGEST DOMESTIC DEPORTATION OPERATION IN AMERICAN HISTORY' IF ELECTED 
The poll comes as the U.S. continues to face a migrant crisis now deep into its third year. There were more than 249,000 migrant encounters in October, the highest October on record.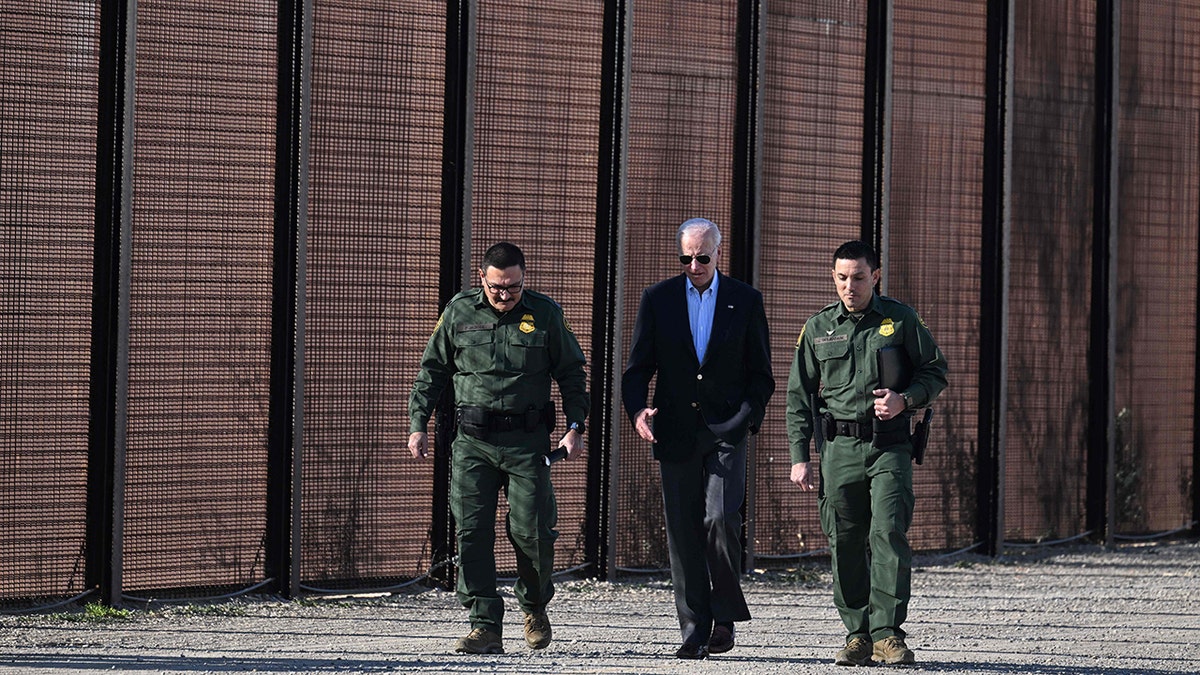 That comes after more than 2.4 million migrant encounters in FY23 — itself an annual record – and more than 600,000 gotaways.
Republicans have hammered the Biden administration for its handling of the migrant crisis, blaming it on its policies — including the rolling back of Trump-era policies like the Migrant Protection Protocols (MPP) and border wall construction, as well as decreased interior enforcement. 
In the House, Republicans have passed a sweeping bill that would strictly limit asylum and increase border security measures — including resuming wall construction. But it has not received support from Democrats, which would be needed for it to pass the Senate. Republicans have also moved to impeach DHS Secretary Alejandro Mayorkas — although a bid to do that failed in the GOP-controlled House this week.
Trump, running for the presidency in 2024, has promised to carry out the "largest domestic deportation operation in American history" if elected.
THOUSANDS OF CHINESE NATIONALS, GOTAWAYS AT THE SOUTHER BORDER SINCE OCT 1: SOURCES 
Meanwhile, the Biden administration has said it is dealing with a hemisphere-wide crisis, and is in need of resources and immigration reform legislation to fix what it says is a "broken" immigration system. It also says it is using a strategy of implementing "consequences" for illegal entry while broadening "legal pathways" for migration.
It has called for the passage of legislation it unveiled in early 2021, which not only would have broadened immigration paths but also would have granted amnesty to millions of illegal immigrants already in the country. It has yet to pick up any Republican support. The White House recently requested an extra $14 billion in supplemental funding for "border operations." That includes money for for migrant services and housing, anti-fentanyl technology and more border agents.
A fact sheet put out by the White House stressed that the Biden administration's strategy is "focused on enforcement, deterrence and diplomacy" that includes a massive expansion of "lawful pathways" into the U.S.
CLICK HERE TO GET THE FOX NEWS APP
"The request we have made of Congress today provides critically needed funding to equip the Department of Homeland Security with the people and tools it needs to prevent cartels from moving fentanyl through our ports of entry and to enforce our immigration laws in an orderly and effective way," Mayorkas said in a statement. 
Meanwhile, the crisis has not only affected border communities but also cities and states deeper in the interior. New York City on Thursday announced deep budget cuts, including to policing and education, which it blamed on the billions it is spending on dealing with the more than 110,000 migrants that have come through the "sanctuary" city in the last year.


[ad_2]

Source link