[ad_1]

It's a sunny afternoon in Stratford upon Avon and I'm watching actors become witches. In Georgia McGuinness's design for Macbeth, the witches seem to be mostly hair. Amber Sylvia Edwards and Dylan Read peer out from mountains of furry locks, each looking as if a yeti has fallen asleep on their shoulders. The tumble of tresses is so heavy, it needs a harness for support. Welcome to the wild world of wigs.
Some hairpieces are bobby-dazzlers: towers of Restoration foppery, ravishingly long Rapunzels. Others slink by unnoticed, disguised in realism. Who makes them? Who pins them on night after night? To find out, I meet two wig mavens. Sandra Smith is head of wigs at the RSC, and has warmly invited me to spend the day with her team in Stratford. Chris Smyth, meanwhile, only recently began his wig journey: he designed a memorable crimson creation for Jane Asher in The Circle at the Orange Tree in London. When we meet, he's doing holiday cover for Guys and Dolls at the Bridge theatre overlooking the Thames.
The RSC storeroom's wooden doors conceal mop after mop of blondes, browns and russets. A separate cupboard holds periwigs and judges' rugs, like a bevy of poodles. This hoard reflects a practice built on sustainability and thrift. Mounds of witchy hair were foraged from the stores, saving thousands of pounds. "Nothing goes to waste, even the ratty bits," Smith says.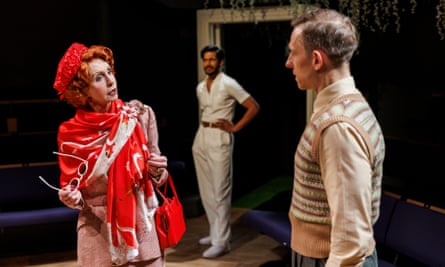 Wigs, like actors, never retire. "We keep them till they die," her colleague Lavinia Blackwell says matter-of-factly. "And then," Smith adds, "they move on to dead heads" – like the beheaded bonces in Shakespeare's grisly history plays, brandished on a stick. "Wigs is an area of theatre that has been drastically cut back," designer Tom Piper says. "People have disappeared and budgets have gone down. I'm so grateful for somewhere like the RSC, who've got the team and a lot of stock."
Some of those pieces meld with a performer's own hair – I stand close to an actor, unable to separate her own chestnut from the team's cunning additions. As Eric Morecambe liked to quip: "You can't see the join." And only when I see the foundations for all the team's creations do I appreciate the challenge of our lumpy, bumpy human variety. Some heads are footballs, some shaped for rugby. The wigs team wrap actors' heads in clingfilm and wind round sellotape to map the cranium, marking the hairline. It's a bit Blue Peter, but it does the job.
Wigs are probably as old as drama itself: there are few disguises more transformative. In his book The Wig, Luigi Amara observes how often Shakespeare uses them as "a symbol of vanity" – though Elizabethan boy actors would have convincingly wigged up to play female roles. There's a continuity in wig-making: Simon Sladen, senior curator of theatre and performance at the V&A, notes that synthetics and sculptural foam have extended the repertoire, but many skills remain constant. Theatrical wigs take quite a bruising, and the hair may be reused, which helps explain why the V&A collection holds few early wigs – the oldest come from Diaghilev's Ballets Russes in the early 20th century. Even so, key artefacts indicate their role in nailing character. When Vivien Leigh played Blanche DuBois in the film of A Streetcar Named Desire in 1951, "the wig fundamentally made her appear less glamorous," Sladen says. Leading theatrical wig-maker Stanley Hall created "impoverished, rather thin hair … to point out her highly nervous, worn-out character".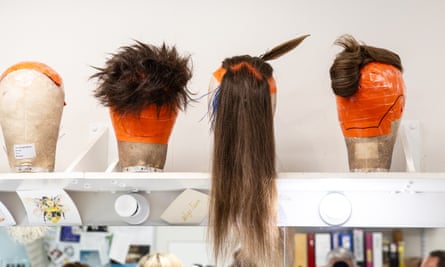 Wig design begins early in the process but casting often settles just as rehearsals start. "It's always a tension," Piper confirms. "Often I research the looks actors have had in the past. But if a person turns up at rehearsals wearing a beard and you have an idea that they shouldn't be bearded, [asking them to change] can have a big effect on their personal life and style." On Piper's winter show for the RSC, The Box of Delights, Stephen Boxer balked at fixing a magician's beard each night, so they've gone for "big Victorian whiskers, muttonchops with a fantastical feel".
Pouncer, the show's unscrupulous villain, looks like "a classic 1930s, film noir gangster's moll," Piper adds, "with flamboyant waves and curls." Unusually, the role is shared. "You adapt the design for two different versions of glamour," Piper says. "Claire Price was keen to go platinum blonde, Nia Gwynne is more auburn – like Marilyn Monroe versus Rita Hayworth." In the workroom, Blackwell brushes a silky blonde skein destined for Price – at £1,000 a pop, it's no wonder she handles it gently.
The range is wide. "The wigs in Guys and Dolls are all human hair," Smyth says, "but the wigs a panto dame would wear tend to be more like helmets – you can beat someone to death with them." The Box of Delights sends Piper between naturalism and unabashed fantasy. "Various characters are heightened and stylised," he says. "Herne the Hunter comes from British folklore, so we're making a huge mane with plaits that twist and turn into horns. Herne's helpers might have hairpieces that echo moss and twigs."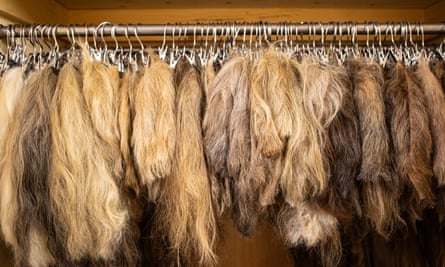 It's painstaking work. "You tie each hair with a tiny little hook," Smyth tells me. How did he acquire the skills? "I do drag and I make my own costumes," he says. "I did a couple of days' training in wigs and just fell in love, because it's so difficult. It's like the dark arts. I will never know everything – everybody does it differently, it's a rabbit hole that keeps deepening and deepening." He was trained by a West End legend called Vincenza Miele: "There is nothing she doesn't know. Her specialty is finger waves – she was taught by someone who was there in the 1920s, a period-accurate way very few people know. Through sheer bloodymindedness I have got there."
Everyone's route into wig world is different. Smith was studying hairdressing and beauty therapy in Pontypridd when a friend took a job at the RSC, and she visited for work experience. "I had a lovely two weeks and I haven't left since. I've been with the RSC for 38 years ."
I crouch beside Violet Barrie, who ran a salon in Leamington Spa until Covid struck. Hairdressing was a family trade in her Jamaican childhood, so the fascination began early – just as it did when Smith grew up in Wales, watching friends and neighbours who came to get their hair done by her aunt on a Thursday evening. No wonder the wig room feels like a hug – a snug environment where skilled fingers work unobtrusive magic amid the chatter.
It's also intimate. "We invade somebody's space from the first moment," Smith asserts. "We've got to be really skilled, but equally sophisticated in personal care: 90% of our job is reacting to somebody's needs." The team intuit who is comfortable, who hates to be touched. "It's all about relationships. The wig room has to be a safe space, with an understanding of what everyone needs to get on stage so they can do their best. We can be the last people to touch them before they go on."
In the wings, Thérèse Bradley, playing Duncan, rushes up with a huge beam and a hug for Smith. "These women!" she says. However careworn you may be when you sit in the wig room chair, she says, you leave ready for anything. "They perform miracles!" They also know all the gossip, but their lips stay as tight as the curls. What happens in the wig room stays in the wig room. It's not just cares, complaints and chat that actors bring in. "There have been nits," Smith says darkly.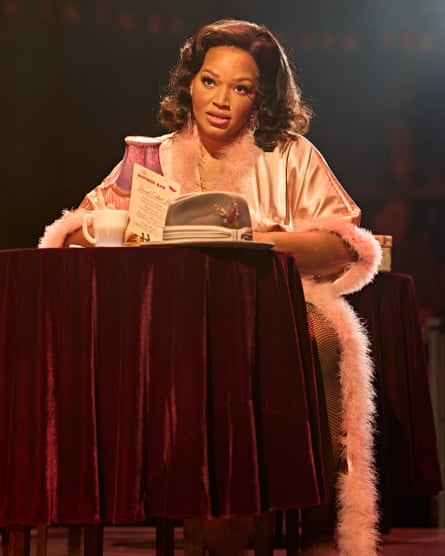 The RSC has expanded its expertise to offer actors of colour the care they deserve. "You must make sure that the looks will work with everybody's hair, and that they'll feel comfortable," Piper says. "I try to find period references that reflect people who look like them, so you're seeing how a Black woman might have had her hair in Victorian times, rather than imposing a Caucasian look."
Some of the work is painstakingly slow, some adrenalin-quick. During his Guys and Dolls stint, Smyth helped Marisha Wallace's Miss Adelaide prepare for matrimony "heartstoppingly fast – she changes into that wedding dress like you would not believe." Even that wasn't his quickest. "I did one in Pretty Woman that was 12 seconds." Smith considers it "like a ballet. We perform this dance around them, there's hands everywhere."
Time to see a speedy change myself. Smith leads us into the wings, as the murdered Banquo becomes a ghost – same look, but blue. Anna Russell-Martin doesn't move (as with waiters clearing a restaurant table, it's easier if you don't try to help) as three people descend on her, painting her face, pinning down a blue hair roll. Smith darts in with a pin ("I can't help myself"). In under three minutes, the transformation is complete, and Russell-Martin strides off to give Macbeth the fright of his life.
[ad_2]

Source link