[ad_1]

I first heard of Willa Cather as a teenage bookseller in North Denver, at a new, used, rare, and antiquarian bookshop that had once been a mechanic's garage. At the bookstore, there was an entire section of Cather's famous works, which I had labeled meticulously with colored markers on scraps of printer paper. I don't remember hearing of Death Comes for the Archbishop. Instead, I sold heaps of used copies of O Pioneers!, My Ántonia, and occasionally The Song of the Lark. Years later as an English major, I would hear these books re- ferred to as "the Nebraska Trilogy," and despite my father being born and raised in Omaha, I still found them to be of little interest based on the pastoral covers with their willowy fonts and watercolor prairies. Perhaps in that unconscious way we often do, I decided that Cather, as a white woman writer of the Midwest, was simply not for me: a Colorado Chicana, a mixed person of Filipino, Indigenous, and Euro-pean ancestry, a young woman trying and often failing to find herself in the pages of books. What could Cather and I possibly have in common? A lot, I was to find out.
After my first book, Sabrina & Corina, was published in 2019, I traveled throughout the United States reading from my short stories and discussing some of my ancestors' origins in northern New Mexico and southern Colorado. I was also at work on my novel, Woman of Light, a reimagining of the lives of my ancestors between 1868 and 1934 and based on our family oral tradition. When crafting the official synopsis for Sabrina & Corina, my publisher settled on the term Indigenous Latinas to describe the cultural identity of my characters in hopes of distilling some sense of their and my deeply complex history. Despite these attempts, I still encountered an abundance of confusion from readers outside of my own culture and region who could not fathom my ancestors' existence in the American Southwest before the founding of the country. We have always resided in these lands north of the current US-Mexico border, my own roots extending to Pueblos of northern New Mexico. This is where we are from, El Norte, which is also the setting of Willa Cather's ninth novel, the masterpiece Death Comes for the Archbishop.
While it is set shortly after the Mexican-American War, Death Comes for the Archbishop opens far from the American Southwest. Cather briefly transports us to Rome in 1848, where three cardinals and a missionary bishop dine in the lush gardens of a villa overlooking the ancient city. On my first book tour, I would mention this time in American his- tory. While many readers in my own region were familiar with the Mexican-American War and the resulting Treaty of Guadalupe Hidalgo, the majority of people I met outside the Southwest were unfamiliar with how this conflict shaped the fate of millions. It seemed surprising to many audiences when I told them that California, Colorado, Arizona, Nevada, New Mexico, Utah, Texas, and parts of Oklahoma, Kansas, and Wyoming had once been Mexico, and before 1821 a territory of Spain, and before that and forever and always it is Native land. There is a saying, "We didn't cross the border; the border crossed us," which I used time and time again to help illustrate the geopolitical forces that had shaped my family's destiny. Despite these efforts, I came home from my first book tour exhausted and made lonely by the sheer amount of historical explanation.
I was living in my former childhood bedroom when I first spotted Death Comes for the Archbishop. While writing late one night, my gaze wandered toward the bookshelf and landed upon a cover illustration of an old adobe church in the desert, red mountains in the distance, and an endless blue sky. What, I thought, is that? Outside was my parents' neighborhood, dark with early Colorado fall. I stood from my lap- top, drifting toward the book, and then held it for a long while. It was as if the novel and I had made eye contact, a hold- ing of one's gaze. It was a meeting, I decided, destined to be.
I read Death Comes for the Archbishop in a few days. I carried it with me to waiting rooms and in long lines at the post office. While I was used to scrolling the shallows of Instagram in the spare moments of my day, Death Comes for the Archbishop held my attention with Cather's magnificent descriptions of the American Southwest and close psychological observations of religious figures I had often thought were narratively off-limits: priests. The novel reminded me of my insatiable childhood reading habits—the all-nighters locked in a bathroom, the only place where I could keep a light on without detection in a household of seven children. Cather had awoken in me a type of pleasure-reading that over the years had eroded with deadlines, assignments, and the long list of reasons why we do not read out of desire but instead out of duty.
Soon after reading the novel, I spoke at a college in Winter Park, Florida. A student asked what I had been reading lately. Emphatically, I spurted out, "Willa Cather, Death Comes for the Archbishop. I've never seen the history of my ancestors glimpsed this way before in a novel. It's not from our perspective or anything like that, but there we are, alongside these priests in the lands of my ancestors." Afterward, the poet Billy Collins surprised me at my book signing table. We had met briefly years earlier in Key West, and I wasn't sure if he remembered me, but he did, and, more important, he also had been reading Death Comes for the Archbishop. I can't remember exactly what he had said, but there was a sense of shared discovery of greatness. "It's wonderful," I had said. "I hope more people read it." It became a mission of mine that day, a project of sorts. I wanted my readers to read Cather. It was as simple as that. I had been startled into attention at seeing my own history on the page.
The prologue for Death Comes for the Archbishop feels like the narrative equivalent of eavesdropping on a nearby table at a lightly populated restaurant. There is little context, some guiding dates and descriptions of the men and their at- tire. Cather is not overly generous in her atmospheric details. She is a stylist who at least in her age predates Hemingway in her proclivity toward sparsity. "But is not realism," Cather wrote in her 1922 essay "The Novel Démeublé," "more than it is anything else, an attitude of mind on the part of the writer toward his material, a vague definition of the sympathy and candor with which he accepts, rather than chooses, his theme?"
They were talking business: had met, indeed, to discuss an anticipated appeal from the Provincial Council at Baltimore for the founding of an Apostolic Vicarate in New Mexico—a part of North America recently annexed to the United States. This new territory was vague to all of them, even to the missionary Bishop. The Italian and French Cardinals spoke of it as Le Mexique, and the Spanish host referred to it as "New Spain."
Within the prologue, Cather mentions the physical realm: the stars coming out at night, the garden and hills, glasses of wine emptied and refilled, but the focal point is the tenor of the conversation. There is a land newly acquired by the Americans through force of war, there are some "thirty In- dian nations . . . each with its own customs and languages," and there are also the "Mexicans, a naturally devout people."
Us, I thought. She is describing us.
This feeling of recognition, of being glimpsed at the periphery of a great American writer's consciousness, was not an experience accustomed to me. It had occurred more directly in the pages of Rudolfo Anaya and Arturo Islas, but their seminal works are set well into the twentieth century. Entering the world of Death Comes for the Archbishop was perhaps the first time I felt the narrative universe of my family's oral tradition converging with the novel form. Is this what it feels like, I had thought, to read as the majority? To see yourself and your history in books nearly every time you crack open a spine?
It wasn't a perfect match, as I would discover throughout the course of reading the novel. Cather was not necessarily my literary ancestor. She was closer to something like a neighbor, my fellow literary countryman.
Willa Cather was born in 1873 into a landowning family in Virginia and was the eldest of seven children. Her family moved to Nebraska when Willa was nine years old, eventually settling in Red Cloud, a railroad town and farming community in the rolling prairie of Pawnee lands. She was a precocious child who delighted in literature and art. In the relatively crammed house she shared with her family and an intellectually disabled domestic worker named Margie Anderson, Willa was allowed her own sanctuary in the either frigid or blazingly hot attic, a small nook formed into a bed- room and covered in wallpaper of her choosing. Her ambition was not yet to become an author. She wanted to be a surgeon, but it was a profession reserved at the time for men. As a teenager, Willa arrived at the University of Nebraska with short hair and dressed in masculine clothing, preferring the name William. In fact, one of her mentors, Sarah Orne Jewett, later criticized Cather for her tendency to write fiction from male perspectives, labeling it a form of masquerade. Despite these outward influences pushing Cather toward a life of more commonplace femininity, the young writer sought work in the predominantly male world of publishing. She began her writing life with essays and reviews in Nebraska, which led to an editorial job in Pittsburgh and eventually New York City, where she worked as managing editor of McClure's, one of the most successful literary magazines of its time. During these formative years, Cather also met her lifelong romantic partner, Edith Lewis, who would first ac- company her to Mesa Verde National Park in 1915, a trip that would later prove monumental in its influence.
Death Comes for the Archbishop at its heart is an adventure tale inspired by the real lives of Bishop Jean-Baptiste Lamy and his vicar, Father Joseph Machebeuf. Following two French missionary priests, distinct in their complementary personalities, there's reserved Father Jean Marie Latour and outgoing Father Joseph Vaillant. They journey throughout the American Southwest, the farthest reaches of the Santa Fe Trail, as power moves from the Mexican diocese in Durango to that of the recently arrived Americans in Santa Fe. The priests seek to spread the faith and build a cathedral in the desert while the land transitions, from one nation to another, with Old World European ideals butting against a newly asserted American dominance, but there is a deeper, more com- plicated cultural undercurrent to nearly every chapter of the novel. Throughout the novel, the narrative again rests at the junction of French, Spanish, Indigenous, Mexican, and Middle Eastern, a cultural tapestry born out of layered conquest. In the chapter "A Bell and a Miracle," this convergence is exemplified in the pleasant music of the Angelus bell.
"[T]he inscription [on the bell] is in Spanish…It must have been brought up from Mexico City in an ox-cart…and the silver of the Spaniards was really Moorish, was it not?… The Spaniards knew nothing about working silver except as they learned it from the Moors…The Spaniards handed on their skill to the Mexicans, and the Mexicans taught the Navajos to work silver; but it all came from the Moors." 
While reading the novel, I found myself asking how Cather knew such depth of nuanced information about the American Southwest. Cather, who so often wrote of the Midwest and its European immigrant communities, had a fascination with the region, the Southwest first appearing in her work in 1909 with the short story "The Enchanted Bluff." The region would emerge again in her writing in The Song of the Lark (1915), The Professor's House (1925), and, of course, Death Comes for the Archbishop (1927). We currently exist in a time when writers are asked to almost exclusively write of our own experiences. This made me wonder: how had Cather embodied characters and landscapes so different from her own? She was a meticulous observer, I came to realize, of both human psychology and place. Take, for example, Father Latour's journey to Santa Fe with his Navajo guide Eusabio and a pack mule. Latour is struck with splendor at the sight.
The sky was as full of motion and change as the desert beneath it was monotonous and still,—and there was so much sky, more than at sea, more than anywhere else in the world. The plain was there, under one's feet, but what one saw when one looked about was that brilliant blue world of stinging air and moving cloud. Even the mountains were mere ant-hills under it. Elsewhere the sky is the roof of the world; but here the earth was the floor of the sky. The landscape one longed for when one was far away, the thing all about one, the world one actually lived in, was the sky, the sky!
While reading the novel, I found myself asking how Cather knew such depth of nuanced information about the American Southwest.
A voracious tourist, Cather first visited the American Southwest in 1912 on a trip to see her brother in Winslow, Arizona. During that trip, Cather wrote a friend, "The West always paralyzes me a little . . . I always feel afraid of losing something, and I don't in the least know what it is."4 Unlike Cather, I cannot recall my first experiences with the land—it is the mode of my existence. Born in a Denver hospital, I must have been only days old when I was first carried beneath that vast and brilliant blue sky. I cannot recall feeling a sense of loss or fear at the landscape in the way Cather could coming to the West at nine years old. Instead, I feel wholeness. I am of this place, and despite these differences in our backgrounds and perceptions, Death Comes for the Archbishop still amazes me with its enlivened depictions of landscape.
Rather than a mere backdrop, the physical lands of the novel are imbued with emotional resonance. Upon looking back at Santa Fe, Father Vaillant takes in the sight of the town "rosy in the morning light, the mountain behind it, and the hills close about it like two encircling arms." The desert wind does not simply blow across the earth but makes "a hollow sound as it sucked down through the deep arroyo." Cather insisted that words like arroyo and adobe were not altered for translated editions of the novel. There is no other way to say it, she insisted. In a letter to Knopf, objecting to errors in the French translation, Cather wrote, "How can one paraphrase a landscape which one has never seen?" But alongside the priests' deep reverence for the land, they often reveal a sense of terror and incomprehensibility. It is a place that feels to them so featureless it is "crowded with features."5 In one of the most affecting passages of the novel, "Snake Root," a Pecos Pueblo man named Jacinto seeks shelter in an underground cave with Father Latour during a great and blinding snowstorm. The cavern is described as lofty and gothic, almost chapel-like. It is a moment charged with mystery and Father Latour's fear at the unknowns of ancient custom and beliefs that predate Christianity on the continent.
Father Latour lay with his ear to this crack for a long while, despite the cold that arose from it. He told himself he was listening to one of the oldest voices of the earth. What he heard was the sound of a great underground river, flowing through a resounding cavern. The water was far, far below, perhaps as deep as the foot of the mountain, a flood moving in utter blackness under ribs of antediluvian rock. It was not a rushing noise, but the sound of a great flood moving with majesty and power.
"It is terrible," he said at last, as he rose.
Terror, it should be said, does enter the narrative on more than one occasion. There is confusion about the landscape, fear of starvation and thirst, violence and massacres, villains of the highest Western order. In a novel that is woven with episodic moments of significance, the harrowing scene of a Mexican woman named Magdalena and her serial killer American husband reverberates long after one has finished reading the book. Near the village of Mora, the priests find themselves traveling into the night as their mules wither with exhaustion. They come upon a "wretched" adobe house where an American stranger appears at the door, inviting them to stay the night. Inside they find a home where dirty clothes and wet socks hang from chairs, and in that dark space she appears: Magdalena, a woman who at first the priests assume is "half-witted" with a "stupid face." It is not surprising to read such frankly racist depictions of Mexican women in a novel written by a white writer in the 1920s, but what is surprising is what happens next. Magdalena, without utter- ing a sound, warns the priests that her husband will in fact kill them in the night.
Instantly that stupid face became intense, prophetic, full of awful meaning. With her finger she pointed them away, away!—two quick thrusts into the air. Then, with a look of horror beyond anything language could convey, she threw back her head and drew the edge of her palm quickly across her distended throat—and vanished. The doorway was empty; the two priests stood staring at it, speechless. That flash of electric passion had been so swift, the warning it communicated so vivid and definite, that they were struck dumb.
Father Joseph was the first to find his tongue. "There is no doubt of her meaning. Your pistol is loaded, Jean?" 
There is a tension throughout the narrative of what can be conveyed through language and what cannot. Magdalena, who at first is reduced by the priests to shorthand, a stereotype of intellectual ineptitude, proves to be a savior. I couldn't help but wonder if Magdalena was somehow related to the many women of my community and family history, Mexican- American women who have fallen victim to brutalization at the hands of white American men.
When I learned that I had the opportunity to write this introduction, I made a pilgrimage of sorts to visit Red Cloud, Ne- braska, Willa Cather's foundational home. Throughout my childhood, my family drove the long stretch of I-80 across Nebraska to visit our grandparents in Omaha. My father was born there, and my mother was relocated by her single mother in the 1970s to Grand Island. Our family in Nebraska, besides being Catholic, was not the same as my vast Chicano and Filipino side in Denver. For one, they are white, of Polish and German descent. What I knew of Catholicism is that it was one of the major roots to my family tree of several ethnicities and ancestries. Save for a Jewish maternal grandmother raised in a Catholic orphanage, of my varied ancestors their great commonality was religion.
In Nebraska, my ancestors were bakers and salesmen, and the cultural mode of the family was much more distant and silent than that of my maternal side. I can define this relation- ship through a prominent childhood memory. It is of my father standing in the driveway of his parents' west Omaha home. He is saying goodbye to my grandfather, who is dying slowly of Parkinson's disease. It is late November, and that flat world is cast in a great gray screen. The two men do not em- brace and there is no laughter or declarations of affection. My father does not utter, "I love you, Dad," and his father does not utter, "I love you, Son." They discreetly shake hands and that is that, and we are on our way, back home to Colorado.
While I was in Red Cloud, it was early summer and I was taken by the prairie scenery, the endless green and the way the wind rippled across the high grass. Birds lifted into flight and the town itself felt charged with stories. I stayed the night in the Cathers' summer house and walked the hardwood floors, imagining a young Willa visiting her family on trips home from her busy life in New York City. Before leaving town, I made it a point to stop at Mr. Shimerda's suicide grave from My Ántonia, but I never made it. A tornado warning came over the radio and the air turned acrid and grim. I raced along county roads, hoping to avoid the storm, and as I charged out of Red Cloud, I couldn't help but notice that the sand hills oddly reminded me of southern Colorado and northern New Mexico. When I arrived to meet my parents later that night, I asked my father, "How did your people, my people, arrive in Nebraska?"
My American story and the history of my ancestors is one of convergence. It does not begin in 1776. Our stories start elsewhere, in the center of our world. Death Comes for the Archbishop speaks to the idea of nation building. How are a people formed? Who gives us our common stories and how do those tales permeate into the collective? Perhaps it is through missionary priests, or a public school system, media, literature, art, but there is a guiding mythology that is curated to fit the needs of the nation. As a Chicana of mixed European and Indigenous ancestry, defining my cultural heritage and the historical framework that created a person like me often proves difficult. Death Comes for the Arch- bishop made an aspect of my own history tangible through story. I have been confounded for much of my life by the American desire to place identity neatly into one box. I have been asked to narrow my cultural heritage, to make things easier, streamlined, avoidant. One of the most surprising aspects of Death Comes for the Archbishop is the way that Cather seems to predict the emergence of future generations born out of convergence. That shared glance, the acknowledgment of something destined to be. It's as if the furthest reaches of the Cather imagination are somehow, nearly one hundred years later, meeting with my own.
Now it is with great pleasure that I invite you, dear reader, into the Southwest lands of Death Comes for the Archbishop. Perhaps this novel will teach you something new about human nature and the layered conquest of our nation, who gets to tell stories and who doesn't, but more than anything I hope this masterpiece informs a deeper understanding of yourself and of your own history. But if not, Death Comes for the Archbishop is still one heck of an adventure, a novel that has endured for a century, and in a hundred more years, I would wager that Father Latour and Father Vaillant are still riding their mules throughout the imaginations of readers across the globe, even in the most desolate of deserts.
__________________________________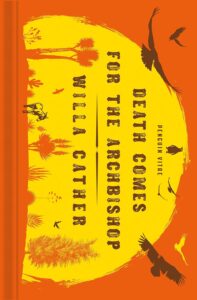 A new introduction by Kali Fajardo-Anstine.  From Death Comes for the Archbishop by Willa Cather, published by Penguin Classics, an imprint of Penguin Publishing Group, a division of Penguin Random House, LLC. Introduction copyright © 2023 by Kali Fajardo-Anstine.
[ad_2]

Source link