[ad_1]

Dusty May isn't much for mementos from his college basketball coaching career.
Those rings from three consecutive regular season conference championships as an assistant at Louisiana Tech? Maybe check his sock drawer.
The game ball from his first win as Florida Atlantic University's head coach? Lost it.
Game ball from his 100th win? Isn't that what players were chucking at the rim in a recent pickup game?
But surely May is treasuring keepsakes from last season, when his Owls made an astounding, inspiring—cue the hysterical sports announcer—"Are you kidding me?" run to the NCAA Tournament's Final Four. Suddenly, improbably, basketball was all the buzz in Boca Raton—bigger than Botox, trendier than the Town Center mall, hotter than happy hour at Mizner Park—as FAU came within a buzzer-beating, heartbreaker-of a-loss from reaching the national championship game.
There were appearances on the Today show, Good Morning America, ESPN's Get Up, The Dan Patrick Show, The Jim Rome Show. T-shirts emblazoned with "In Dusty We Trusty" flew off the campus store shelves.
Some four months later, on a blazingly hot August afternoon, May is sitting in his FAU arena office, one best described as functional. That is, if he were the manager of a used car lot along U.S. 441 and not one of the hottest young coaches in all of collegiate sports.
May's makeup is grounded in humble, hard-working, grateful Midwestern stock. No flash, no looking back, no resting on laurels and, no surprise, he's still not into mementos.
He gestures to a shelf lined with accolades and tributes from the Owls' mind-blowing March Madness success.
"I just ordered tubs to get rid of all this stuff," he says. "I don't like looking at it. I don't like seeing it. I'm not very sentimental.
"I'll probably regret it when I get old."
It's not that May, 46, hasn't taken the time to appreciate how FAU crafted one of the most gripping chapters in the 84-year-old tournament's storied history. It's just that it's time to look ahead to a new season. Besides, while the sports universe and all of South Florida were going gaga over the Owls, they were just going about their business as usual.
"Our guys were offended by the Cinderella tag," May says. "We won 20 straight games. We were nationally ranked from a top 10 league. We felt like clumping us with those other Cinderella teams from the past … that was a slight."
That might explain May's expressionless reaction as FAU fans erupted at Madison Square Garden in New York when the Owls beat Kansas State 79-76 to clinch the Final Four berth. May walked along the sideline after a game-saving steal like an indifferent Manhattanite would if The Naked Cowboy was on bended knee proposing to Elmo in Times Square.
Before the game, May had written a specific message to his team on a locker-room whiteboard filled with routine game strategy reminders:
"WE ARE BUILT FOR THIS MOMENT''
After that upset, May walked from the Garden to the team hotel with two of his assistant coaches. He went straight to his room and was munching on pizza when a few school officials suggested that he come down to join the postgame pandemonium.
"It was like an FAU home game," May says of the crowd that had overtaken the Marriott Marquis' massive atrium.
If May's wheels already were spinning toward the Final Four weekend in Houston, his biggest supporter was caught up in more than a New York minute of emotions.
"I did cry after that one," says Dusty's wife, Anna. "I know how special it is to reach the Final Four. There are so many great coaches and teams that never made it, so I know how difficult it is to get there."
Unlike her husband, Anna did hang on to at least one keepsake from the postseason—a pair of Owls-red pom-poms she brought to the Conference USA tournament in Frisco, Texas and kept on shaking through the Final Four.
"Every weekend was magical," she says of March Madness, "and it was a complete family affair. We had all of our families there, friends from college and cities that we had lived in previously, even old neighbors."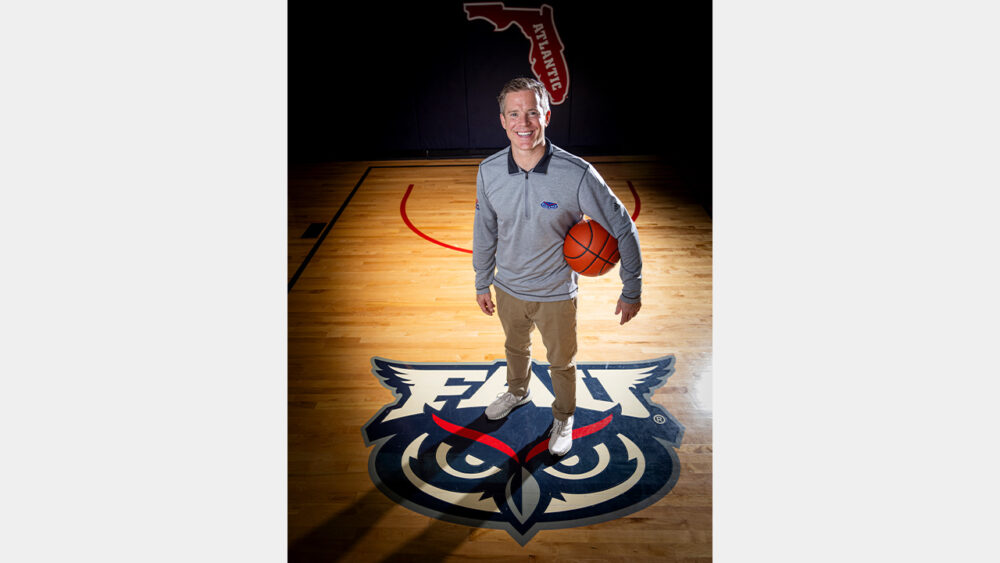 Knight Stand
Dusty and Anna met in first grade, became boyfriend and girlfriend in fourth grade, dated through high school, floated apart for a brief period, reunited before graduating from college and were married about a year later. They grew up in a rural area outside of Bloomington, Indiana, home of Dusty's alma mater, Indiana University. Greene County, an old coal mining community, is so rural that the only signal light in the area is flashing.
"When I was growing up, it was maybe the poorest county in the state," May says. "I wouldn't say we were poor because we were never hungry, but it was the mid-[1990s] and my mom drove a 1984 Chevette. Not a Corvette. A Chevette."
May's parents divorced when he was a child, and his mother moved Dusty and his older brother, David, into a trailer. She worked as a secretary at a small engineering firm. "She's my idol," May says of his mom, Sandy Garrett.
Anna says her husband is "definitely the same person" she's known since first grade. "He was always very competitive and into sports," she says. "He loved basketball and spent all his time at the gym, and he's always been very outgoing."
Growing up in the hoops crazy Hoosier State, May had one goal—to be a high school basketball coach in Indiana. To that end, a lucky bounce came his way before he graduated high school, but he let the opportunity dribble by. May was doing yard work for Larry Rink, Indiana University's longtime team doctor and best friend of legendary Indiana coach Bobby Knight.
"If you want to be a coach, you need to go to work for Bob," the good doctor prescribed. Meaning, apply to Indiana and get involved in Knight's program. Instead, May, a four-year starter at point guard at Eastern Greene High School, went off to play Division II ball at Oakland City University in Indiana, where he struggled on the court as a freshman, lost confidence in his game and realized he needed to make a fast break to IU.
By the following fall, May was one of about 12 to 15 team managers reporting to the coach respectfully and fearfully nicknamed the General.
"As a freshman manager, he doesn't even know who you are," May says of Knight. "You're terrified. You're always on your toes. After four years of that, you kind of need something different because it's exhausting.
"But it does prepare you for anything and everything."
The payoff was a daily crash course on Knight's relentless pursuit of perfection. "He had systems for everything," May says. "As a manager, it was a towel over a shoulder, ball under your arm. You have three-by-five notecards with Flair pens in your pocket. Everything is a checklist and systems … everyone is alert, anticipating problems, always hustling.''
May threw himself into Knight school as if he was diving for loose balls. He even volunteered for extra shifts around the basketball offices whenever secretaries took vacation time. Knight was growing fond of the kid a fellow team manager called "the alpha manager."
"He called me 'Rusty Dusty,' " May says, still tickled after all these years over his gruff mentor's affectionate nickname.
Within two years, one of Knight's assistant coaches convinced May that he should skip high school coaching gigs and work his way up the ladder through college assistant positions to become a head coach. Orders from the General ultimately landed May his first job. Knight reached out to then-Southern Cal coach Henry Bibby, who was considering hiring May for his vacant video coordinator position. May was sitting nearby when he heard Knight talking him up to Bibby. When the phone call ended, Knight glanced at May. 
"You didn't think I was talking about you, did you?" he growled.
May chuckles over his follow-up conversation with Bibby. "He said, 'Unless you're the village idiot, the job is yours. If you can work for that guy, you can work for anyone.'"
Knight, of course, is as renowned for his temper and ill treatment of some players as he is for his extraordinary success, including three national championships in 29 years at IU. May understands and accepts the criticism, especially from players who later spoke out against Knight.
"Every day he wanted to put players in an equally stressful environment as they would see in a game," he says, acknowledging that it did break down some players. "It wasn't for everyone. Those standards and expectations are hard to live by."
May didn't hear personally from Knight during FAU's tournament run; the 82-year-old was hospitalized during Final Four weekend with what was described as an "acute illness.''But, May says, his sons did reach out.
"He was amazing, and I hate that the media perception is a lot different than how I knew he was on a daily basis," May says.
For May, the Southern Cal job tipped off a series of assistant coaching positions at Eastern Michigan, Murray State, Alabama-Birmingham, Louisiana Tech and Florida.
Anna, a Purdue University graduate and occupational therapist, says their three sons came to understand that "when we said we needed to have a family meeting, they knew Dad had been offered a new job."
Welcome to Boca
May certainly wanted a head coaching position, but he had enjoyed three seasons in Gainesville under then-Gators coach Mike White, who also had May on his staff at Louisiana Tech. Anna says the plan was to have the boys graduate from high school in Gator Country before moving on. 
Then, in March 2018, White's brother, Brian, became FAU's athletic director. It wasn't long before he reached out to May to make his first hire. Florida had just lost in the second round of the NCAA Tournament and May was walking from the team bus into the team hotel when Brian White called.
A few days later, Dusty and Anna were driving to his interview in Boca Raton and the GPS took them on the scenic route, the last miles stretching down lush and luxurious AIA through Delray Beach. This was their second trip to South Florida, the first being a couple of years earlier for one of their son's basketball tournaments. They stayed at FAU's campus in Jupiter and fell in love with the area, thinking, at the time, that they were on the main campus.
"We thought Gainesville was heaven," Dusty says, "but everyone up there was like, 'No, this is nothing. South Florida is heaven.'"
Now, as AIA paved their way to the actual campus like some sort of Yellow Brick Road to Dusty's first head coaching Oz, May realized he wasn't in Indiana anymore. "It's a perfect day, I'm looking at my wife and I'm like, 'Wait a minute. We can live here?'"
FAU booked the Mays at the storied Boca Raton Resort & Club (now called The Boca Raton) and Dusty interviewed with then-President John Kelly and other school and athletic officials. By lunchtime, there was an offer on the table. May, who describes himself as "relatively impulsive" about all of his decisions, needed input from Anna, who was cruising around Boca.
"I stepped outside to call her and said, 'Hey, they want me to do this,'" May says. "She said, 'Whatever you think. I trust you when it comes to your career.'
"So, I signed it."
What happened next became a viral storyline as reporters scrambled to introduce May and the Owls to a nationwide audience during March Madness. After signing the contract on one side of campus, May was brought to the basketball arena for the first time where, as he recounted to media members last spring, he panicked. Looking over the spartan, smallish (his high school gym capacity is 100 fewer than FAU's), somewhat shoddy arena, weight room and locker room, May thought he had "committed career suicide."
Later, when he was dropped off at the resort, Anna had to console and reassure her tearful husband. May doesn't regret telling that story, but he would like to add some context.
"Look, the new AD had been on the job about a week," he says. "The basketball coach had basically been let go a week or two earlier. There was no order whatsoever. The gym was a mess."
FAU has since made improvements to what's now called Eleanor R. Baldwin Arena or "The Burrow'' to the growing legion of Owls fans. Still, May doesn't use the arena to sell the school to recruits, wooing them instead in the swanky suites atop the football stadium, where the ocean glistens a short distance away.
Gym conditions aside, May saw an opportunity to soar as a coach and get the program off the ground in his first solo flight on the bench. "I knew the expectations weren't great, so that's the perfect first job," he says. "You can learn and grow without the pressure.
"There are a lot of built-in advantages here. Let's not discount that the university is booming and blowing up. We have a lot to sell, especially when it comes to this area and this community.''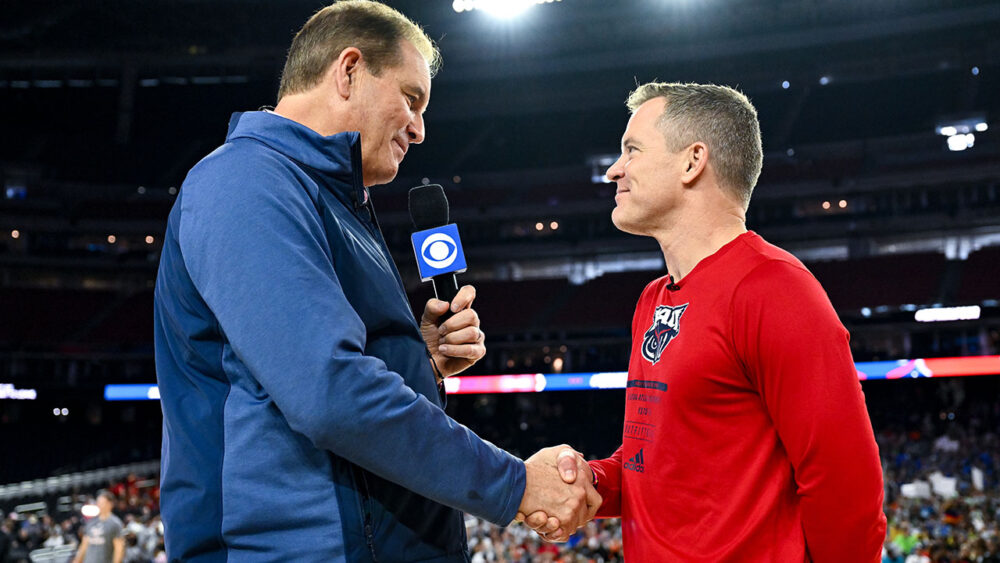 A Season for the Ages
May has not had a losing record in five seasons at FAU, becoming the winningest coach (101-60) in the school's 34 years of basketball. His thoughts heading into last season?
"If this team doesn't win 23 to 25 games and be in position to win a conference championship, they should fire me."
Talk about job security. The Owls won the conference regular season championship at 18-2, beat UAB 78-56 for the conference tournament title, then knocked off Memphis, Fairleigh Dickinson, Tennessee and Kansas State in the NCAA Tournament before losing to San Diego State 72-71 in the Final Four semifinal. FAU finished 35-4 overall, the most wins by all Division I teams for the season and three short of the all-time record.
It was hoot-hoot-hurray for the Owls from all corners of the country. May heard from Miami Heat coach Erik Spoelstra, Orlando Magic coach Jamahl Mosley and Los Angeles Rams coach Sean McVay.Brendan Hunt, who plays Coach Beard on the hit comedy series Ted Lasso (May is a big Lasso fan), sent a video message:
"From the inquisitive bird community, this is coach Beard. We have enjoyed watching the Owls play.''
Carrot Top, the FAU graduate and king of props comedy, took time out from his Las Vegas shows to text his own props.
Twenty-two years ago, the late Howard Schnellenberger hoisted FAU onto the collegiate sports landscape by building a football program from the ground up, a passionate project for the mustachioed, pipe-smoking, showman of a coach that led to construction of the campus football stadium whose field now bears his name.
Now, May and his hoopsters have taken the school's athletics and overall exposure to another level. "It shows you the power of the NCAA Tournament, especially the Final Four," says May, who received a message from Schnellenberger's wife, Beverlee, telling him how proud she was of his team.
Says Katrina McCormack, FAU's associate athletic director, who's been at the school since 1991: "I've been here through Obama speaking [on campus], the Dalai Lama speaking here, Coach Schnellenberger and his huge impact, especially initially.
"But I don't think there's one thing in the history of this university that's had more impact."
FAU number crunchers figure the media coverage generated by the tournament frenzy amounted to nearly $2 billion dollars in free advertising for the university.
May's accomplishments earned him a princely sum as well—a new 10-year contract that pays $1.25 million this season with 5 percent increases through 2033. He also can earn a $100,000 bonus for returning to the Final Four and $250,000 for winning the national championship. (May reportedly made $545,000 in base salary last season.) 
While he certainly got a nice bump, consider this for comparison's sake. Last March FanBuzz.com posted the top 25 salaries among college basketball coaches with Louisville's Kenny Payne clocking in at No. 25 with $3.494 million and Kentucky's John Calipari on top of the heap at $8.533 million.
Conventional wisdom has May eventually leaving for a bigger program and a lot more dough, perhaps as soon as next season. Of course, many figured May already would be gone. May doesn't dismiss the possibility of another family moving meeting, but he set the stage early last season for a later, not sooner, departure.
"I never thought of entertaining an offer," he says. "I try to make all of my decisions well in advance, when there's no emotion attached to it. So, once we started winning, you start getting calls from search firms; I knew I'd have options to be in the mix for jobs. But I don't believe in trying to leverage this or leverage that.
"My wife says I'm a terrible businessman and I don't disagree. I've never chased money. I always felt if you do a great job, money finds you."
Besides, the Mays are having a ball in Boca. Their two oldest sons, Jack and Charlie, graduated from Saint Andrew's School, where they played on a state championship basketball team. Jack is a walk-on guard at Florida, entering his final season while working on his MBA; Charlie is a redshirt freshman walk-on guard at Central Florida. The youngest, Eli, is a senior guard at Saint Andrew's.
"This is home to our sons," Anna says. "That's another reason we wanted to stay."
Anna works for a home health care company, giving her flexibility to concentrate on her main job: Basketball Mom/Wife. Four schedules fill out her smartphone calendar as she jockeys to shuttle between Saint Andrew's, FAU, Gainesville and Central Florida to catch as many games as possible.
"I don't have an athletic bone in my body," Anna says. "I'm not competitive, never been into athletics. But Dusty appreciates that because I'm kind of his escape. God definitely knew to give me three boys to grow up in gyms, be around their dad and support his career."
Keeping It Simple
The Mays live close enough for Dusty tosometimes ridehis bike to campus, where the sports motto is "Winning in Paradise," a sentiment Dusty embraces every sun-splashed day.
"I love Boca," he says. "It feels almost like a small village in the middle of all the hustle and bustle of South Florida. Boca's quiet, closes early. Even during spring break, you'll have all the college and high school kids here, just five minutes away in each direction. But we're a little bit insulated from all that."
Perhaps it's his small-town roots or maybe exhaustion from always being on the road, but May prefers hanging at home more than hanging out around town. Date night for the Mays usually includes ordering in, playing board games, maybe catching Jeopardy.
That's Dusty May, keeping things simple. He even cuts his own lawn, push mower, of course. As for the extra zeroes freshly attached to his bottom line? He isn't exactly making it rain.
"My wife wanted to look at other houses, but I don't really want to move," he says. "My car is fine. Bike is fine."
Anna disagrees, especially about the bike. "It's in bad shape," she says.
Nothing worth a splurge?
"I buy hardback books now," May says. "I used to buy just paperbacks."
The Mays did make two trips to Europe this summer. The first was to celebrate Anna's father's 70th birthday in Germany; Dusty took a side trip to Monaco to see NBA No. 1 pick Victor Wembanyama in the French league championships. The other was to watch Charlie and the UCF basketball team play a series of exhibition games in Italy.
By late summer, May was full-on shifting his focus to the upcoming season when the Owls will return all five starters from their Final Four team. One early ESPN preseason Top 25 had FAU ranked No. 9. 
He's eager to get back on the court and into the heads of his players with tools he's sharpened under the guidance of IU alum Doug Lemov, an expert in academic and sports teaching techniques whose books include The Coach's Guide to Teaching and Teach Like a Champion.
May doesn't agonize over the last-second loss to San Diego State in the semifinal. Truth is, the coach and teacher says, the Owls didn't play up to the standards they set for themselves from the first time they stepped on a court last season.
"It's painful because we didn't make the plays we made every other night of the year since our first game," May says. "We got beat to some loose balls and had some uncharacteristic mistakes. That one didn't hurt as bad because I didn't feel like we deserved to win like we did every other night."
If he did play the woulda-coulda-shoulda game over the defeat, what stings just a bit is that May had watched eventual champion Connecticut beat Iona in the first round and "I felt like we really matched up with them better than I thought we would have."
Two moments stick with Dusty May from the Owls' remarkable and enchanting season. The first came in late February, before the actual Madness even began. FAU beat UTEP to clinch at least a tie for the conference regular-season championship. Two more games remained, but this was the Owls last home game so administration officials urged May to proceed with the basketball championship tradition of cutting the nets.
"I thought it was a bad idea," he says. "We still had to win another game and I didn't want to share the title. But I figured it was good for the guys, a good moment … we needed to do it."
So, right there on the court and in the building that had reduced him to regretful tears just five years earlier, May and his players joined coaches, parents, wives and children in celebration.
"You're in the spot where you've spent thousands of hours with all of these people … everyone is here in one spot, a familiar area," May says. "It was surreal to celebrate that conference championship because we're right where it all started, and it had culminated in this.
"That was the only moment that gave me goosebumps."
May pauses and touches an outstretched arm that's suddenly as pebbled as a basketball. "Still does thinking about it today."
The other cherished memory?
"Jim Nantz," May says, referring to the CBS play-by-play icon who has called 32 Final Four weekends, announcing before last season that 2023 would be his last one. When May finally sat down to watch the replay of the semifinal, the voice he first heard as a kid mesmerized by March Madness delivered a thrilling call.
"And there's Anna May …" Nantz said as the cameras zoomed in on Dusty May's wife.
"To hear Jim Nantz say my wife and my family's name … it's like, wow!"
Now that's a memento worth keeping around.
Original photography by Eduardo Schneider
Special thanks to FAU's Katrina McCormack


[ad_2]

Source link