[ad_1]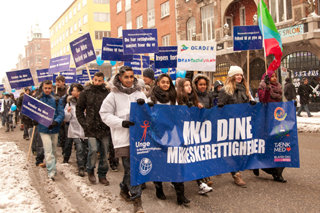 Celebrating the Universal Declaration of Human Rights, adopted by the United Nations December 10, 1948
As we count down to the 75th anniversary of the Universal Declaration of Human Rights (UDHR), Scientology Churches and Scientologists gear up to achieving the goal of universal human rights. They are inspired by author, humanitarian and Scientology Founder L. Ron Hubbard who believed that "human rights must be made a fact, not an idealistic dream." 
As we approach this anniversary, a quick scan of the news reveals glaring violations of these rights, not the least of which are poverty, human trafficking, hunger, repression of freedom of religion and conscience, and war.
But those who do not know their own rights and responsibilities will not demand or defend them for themselves or others. Surveys show most people can name only a few of the 30 rights enshrined in the UDHR.  
Scientology Churches and their members believe in and support human rights education and sponsor one of the world's most comprehensive human rights education and public information initiatives, United for Human Rights and its program for young people Youth for Human Rights. These nonprofits aim to create a sea change by teaching young people everywhere their inalienable rights, thus creating an entire generation of leaders who will demand full implementation of the thirty UDHR articles.
In celebration of this 75th Anniversary, Scientology Churches, missions and groups are organizing petition drives, human rights marches, and other public awareness campaigns. Scientology Churches are bringing community leaders together for conferences and open houses to share the educational resources and make these available free of charge. They are also arranging training for those interested in delivering human rights education to others. 
Scientology Network has produced a series of brief documentaries on human rights advocates from Guatemala to Taiwan, Colombia to South Africa, and Pakistan to Morocco who share how they have used these initiatives to create meaningful change. And how simple it is to do so.
The Story of Human Rights, a brief documentary on the history of human rights and its state in the world today, also airs on the network.
The Scientology Network is available on DIRECTV Channel 320, DIRECTV STREAM, AT&T U-verse and can be streamed at Scientology.tv, on mobile apps and via the Roku, Amazon Fire and Apple TV platforms.
For more information, contact your nearest Scientology Church or Mission or enroll on the free online human rights course, available in 17 languages on the United for Human Rights website.
[ad_2]

Source link