[ad_1]

It all started in a loft in Tribeca, New York, long before it was a trendy neighbourhood. "I had 47,000 records and nobody wanted them," recalls Bob George, who had just published a discography of punk and new wave music. "That led a lot of people coming to me and saying you have to save this stuff; no one else is saving it. That got the ball rolling in my loft in what is now fashionable Tribeca, which was an incredibly unfashionable war zone in 1974 when I was first there."
George turned his record collection into the ARChive of Contemporary Music (Arc) in 1985 with co-founder David Wheeler. The non-profit music library and research centre now contains more than 3m sound recordings or over 90m songs, making it one of the biggest popular music collections in the world. Donors and board members have included David Bowie, Jonathan Demme, Lou Reed, Martin Scorsese and Paul Simon.
The Arc is not open to the public but has been a vital resource for film-makers, writers and researchers ranging from Ken Burns looking for a song for his series Baseball to the new Grammy Hall of Fame and Museum in Los Angeles needing cover art for its inducted recordings. Now, however, this unique treasure trove is under existential threat.
The Arc cannot remain at its current Hudson Valley premises indefinitely and is in need of a new and bigger home. "We have to move and we don't know when we'll have to move and the collection is really at risk because it's all on pallets," says George, who dreams of a patron like James Smithson, the British scientist who left his estate to the US to found the Smithsonian Institution. "We're looking for someone to help us buy a very wonderful property or for us to build a new building on vacant land in upstate New York."
After growing up in Youngstown, Ohio, George moved to New York in 1974 as a visual arts student and started collecting records as a DJ. In 1981 he released Laurie Anderson's first single, O Superman, which sold nearly a million copies worldwide and made it to number on the UK singles chart. He was a guest on John Peel's beloved BBC radio show, sneaking in little-known records from New York, and took music to European broadcasters too. People kept giving him records that other collections turned down.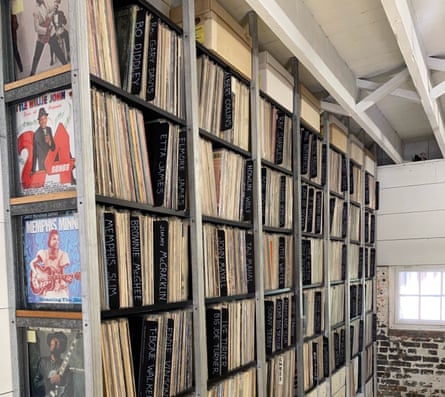 "I was doing the book and then doing Peel shows and it accidentally became this large collection that nobody wanted. They kept saying, oh, we collect classical, we collect Broadway, we collect ethnic music. I said, well, I have funk, reggae, African and hip-hop and they said, oh, no, we don't collect any of that. Forty years later, I say, you put all those together and that's what music has become."
The simple goal of the archive, which has always had a peripatetic existence, is preservation. "We have no interest in quality," George cheerfully admits. "It started that way from the very beginning because there's no way to tell what's valuable in the future. Everybody brings their own criteria and tastes to things in their own time. But the future is quite different, as we hope."
The archive has never received aid from any city, state or federal organisation but its scale gives the Library of Congress a run for its money. It has absorbed major collections from musicians and fans and is home to most of Rolling Stone Keith Richards' extensive blues inventory.
George dispatched two semi-trailers to a condemned house in Boston sinking under the weight of Jeep Holland's set of more than 125,000 recordings and over 2,500 signed albums from the likes of the Stones, Jimi Hendrix, Bob Marley and the Sex Pistols. "Going towards the bathroom, he has a gas stove, the pilot light is on, there are records in the oven. It was just a storage space … His car had become so full of records that he abandoned it and rented a car."
George has made repeat trips to countries such as Brazil, Cambodia, Colombia, Cuba, Japan, Jordan, Laos and Thailand. The Arc contains Demme's personal collection of Haitian albums. More than 150,000 pieces of world music have been catalogued; there are plenty more to do. "We've tried to get as much of that material as possible so that collection is just fabulous."
The Arc preserves copies of every recording in all known formats. It has electronically catalogued more than 400,000 sound recordings and digitised 200,000 with the Internet Archive – more than any other public university or private library in America. It also contains more than 3m pieces of material including photos, videos, DVDs, books, magazines, press kits, sheet music, ephemera and memorabilia.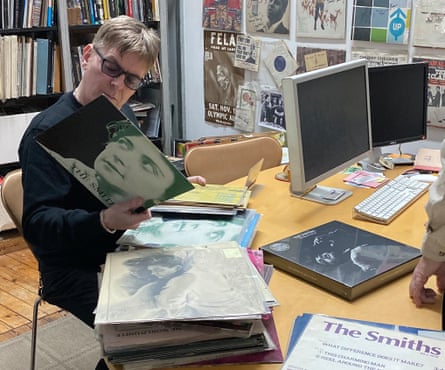 George says: "We catalogued 105,000 singles just recently; we have another 200,000 or 300,000 to go. This is the first way a band at one time got their feet in the water. They put out one or two or three singles. If they did hits, they got the chance to do an album and so much of this material does not exist on LP or CD. Little by little more of it might be streaming because of YouTube, as people can get away with murder on YouTube, which is great, but YouTube will disappear. Everything commercial will disappear."
Among those who have turned to the archive is the Oscar-winning director Ang Lee, who wanted records by the singer Bert Sommer for his film Taking Woodstock. "The archive is amazing because we don't know what we have until somebody needs it. We've been into the stacks and we found five LPs by Bert Sommer. For me, it's like I have no idea who this guy is and what he did; he's sort of a folkie. For Quincy Jones, we just sent him a list of the 8,000 things that he's either produced or on.
"Research was how we basically stayed alive along with the largesse of the rock stars or celebrities that we had hooked up with. The idea was never to open to the public but that's what we want to do now. I don't think it's untrue that we're one of the largest in the world and that we want to make that available. We've tried to save two copies so there will always be a listening copy and then that would then become a listening library."
George hopes the new archive will be open to students, educators, historians, musicians, authors, journalists and the general public. An anonymous donor has come forward with a million dollars to help realise that dream but more money is urgently needed. One possible new home is an abandoned IBM campus spanning 34 acres, although that would cost $8-10m. George is considering partnering with an upstate university and has plans to offer residencies for scholars.
"People could come in and produce a work, and that would go out into the world. It could be a blog, essay, tape, compilation, new recording, whatever. We're really quite un-academic. I'm against it somewhat and I'd like people to have ideas and bring those ideas and put them back into the world as opposed to making it an interactive experience for everybody. I don't want to be Disney World. It's nice to have seminars. It's nice to have listening parties. It's nice to have dances."
[ad_2]

Source link