Rep. Tony Gonzales, R-Texas, says he believes there is a sense of urgency in Congress to get bipartisan solutions to the ongoing crisis at the southern border passed, even if they are limited, in the wake of the Hamas terror attack against Israel last month.
It's been more than a month since the Oct. 7 attack on Israel, and it renewed already-ongoing concerns that terrorists could attempt to use the ongoing chaos at the southern border to slip into the country and commit atrocities against Americans. Republicans have been repeatedly sounding the alarm about what they see as a porous border, and the numbers of terror watchlist encounters and "gotaways."
DHS has highlighted the threat both in an FY24 threat assessment (published before the attack) and more recently in a Customs and Border Protection memo which warned fighters from Hamas, Hezbollah and other groups may seek entry into the U.S., although the agency says they have had no indication of fighters attempting to enter the U.S.
WHITE HOUSE, SENATE DEMS REJECT GOP BORDER SECURITY PROPOSALS: 'TOTAL NON-STARTER' 
"Hamas is the ugliest of ugliest when you think of terrorist organizations and that threat isn't just abroad. It's absolutely at home," Gonzales said. "You've seen the number of folks that are on the terrorist watch list grow, that are apprehended and grow. And the threat is very real."
Gonzales has been part of a number of bipartisan discussions about border security, while also having upset some members of his own party by refusing to support some tougher GOP initiatives that targeted asylum claims at the border – which contributed to him being censured by his state party earlier this year.
But Gonzales has continued, and this year introduced the SAFER Act, which would raise the credible fear standard for initial asylum screenings, hire additional immigration judges and push the State Dept. to negotiate deportation deals with Central and Latin American countries.
The credible fear provision was also present in the Republican Senate border proposals published this week — but which were quickly rejected by the White House and Senate Democrats. There are also provisions related to increased Border Patrol pay, which Gonzales has also called for. Gonzales was pleased to see the inclusions, but added that he wished that other anti-terror moves, like declaring cartels to be terrorist organizations, were in the proposals.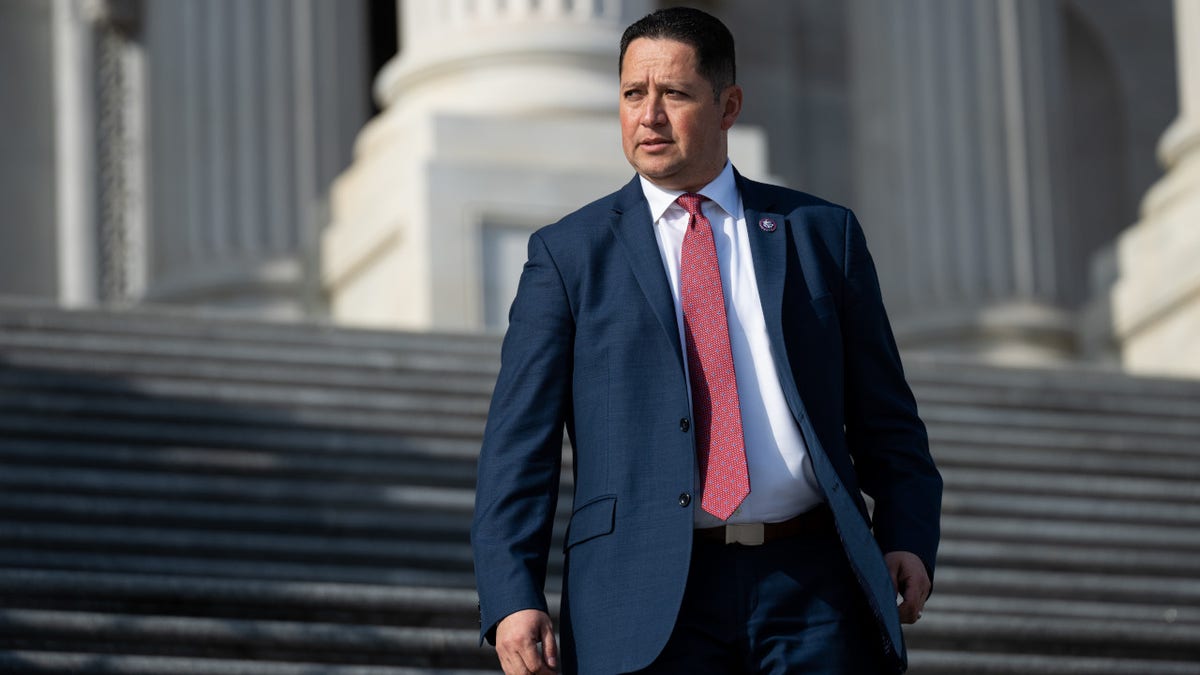 Gonzales believes there's still hope for a compromise, but says that some of the more "toxic" proposals from both sides need to be dropped.
"If we can remove some of these contentious parts of the border security piece to it and the contentious parts of the immigration piece to it, if you remove that, there's an opportunity to get some things through, some meaningful things that could immediately keep Americans more safe than what they are now," he said.
He said he believes that, in the wake of the attack on Israel, there is a greater sense of immediacy in D.C.
"There seems to be a sense of urgency that is occurring on all sides, whether it's the administration, whether it's Republican senators, whether it's Democrat senators, whether it's Democrat House members, Republican House members there," he said.
"There's a sense of urgency. So that tells me there's an opportunity if we can just package something that is meaningful enough, where it's not just messaging and also can ultimately get signed all the way through, It's a difficult lift, but it's something I'm certainly committed to doing," he said.
DHS Secretary Alejandro Mayorkas on Tuesday echoed the administration's call for a "comprehensive" rather than a piecemeal solution. But Gonzales says it will be the latter that will be more realistic.
WHITE HOUSE FUNDING REQUEST INCLUDES $14 BILLION FOR BORDER AS CRISIS HITS NEW RECORDS
"It has to be limited in scope and you piecemeal it. Anyone who is pushing for a comprehensive package, they're telling you they don't want anything," he said. "You know, when the president brings up [Deferred Action for Childhood Arrivals], that's a nonstarter. And, you know, some of these things are just toxic, if you will, to the conversation."
He cited raising the credible fear standard and increasing deportations — he noted the administration's recent move to directly deport illegal immigrants to Venezuela — as areas of potential agreement. He also said it is more personal to him as it is his constituents who are on the front line of the border crisis.
CLICK TO GET THE FOX NEWS APP
"We're tired of the messaging bills. We're tired of the blame game. We need real solutions. And I think I do think there's an opportunity just with the state of events that it's occurring, to get some meaningful things over the finish line," he said.